Andrew Chambers Art Collections
Shop for artwork from Andrew Chambers based on themed collections. Each image may be purchased as a canvas print, framed print, metal print, and more! Every purchase comes with a 30-day money-back guarantee.
About Andrew Chambers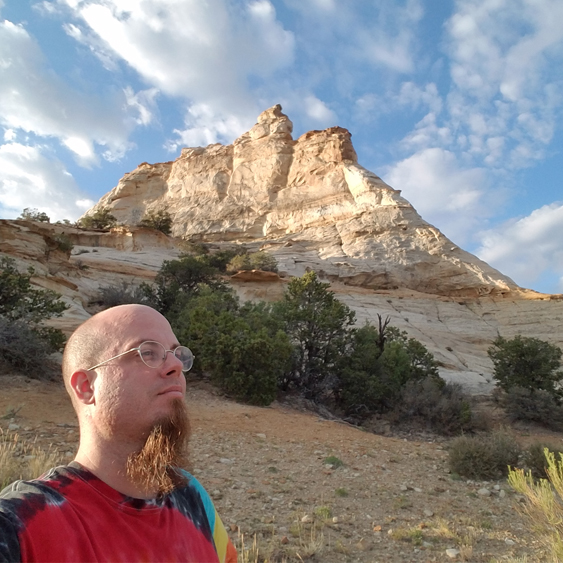 Andrew Chambers is an artist and truck driver who lives in Muncie, Indiana, when he is not on the road with his wife, Lisa. He grew up in the small town of Rensselaer, Indiana and showed an interest in fine arts from an early age. In 2001 he earned his BFA from Ball State University. John P. Gee was his faculty mentor and he specialized in drawing.


Trucking pushed me into the realm of landscape photography. The Southwest has particularly taken my interest. Growing up in Indiana, the Southwest seemed as foreign as Mars. I remember my first trip out West, entering Utah from Wyoming on Interstate 80. The landscape seemed magical and I wanted to photograph it. I was a bit of a darkroom geek in high school but only took one photography class in college. However, I have always loved photography. I have taken tens of thousands of photographs since I began driving in 2008.

I stated shooting nudes for drawing and painting reference while still in college. As my comfort with digital photography grew, I began hiring models to pose for photo shoots. These images were intended to be used for art reference. But occasionally one in every 50 photos or so was good enough to be a standalone work of art. I still do not see myself as a photographer, but more of a mixed media artist who works with photography more and more. As much as I still love drawing and painting the figure, nude photography is beginning to become my favorite method of art making.

My influences, like my life, are all over the map. I love the POP artist of the 1960s especially James Rosenquist and Tom Wesselmann. I love the colors and whimsy of Ed Paschke and the Hairy Who. The power and presence of figurative sculpture by Henry Moore, Gaston Lachaise, Aristide Maillol, and Rodin are on my mind when I am working with the figure regardless of the media. There are hundreds of artists I could mention whose work has had an impression on my development over the years.

Every photo tells a story. Every highway is full of memories. My pictures are a moment of time captured in light and digits. They are a record of our life on the road and how beautiful that life can be from moment to moment. I hope you enjoy the ride.